Media
From radio, to print, to TV and speaking and hosting events, Jen loves sharing her fashion expertise and the tips and tricks she's picked up along the way. For media inquiries please contact info@youreverydaystylist.com.
CTV News
Jen came back to the CTV News studio in Vancouver to speak to Scott Laurie and share her tips for last minute Christmas shopping. The segment aired on Saturday December 16th, 2017. Head to the blog to read her Gift Shopping Tips and watch a short clip from the interview below.

Your browser does not support videos
News 1130
Jen comes back to speak with Simon Druker from News 1130 about making the most of your last minute Christmas shopping. The interview aired on Friday December 16th, 2016.

Click on the image to read about the article or listen to the recordings below.
Clip 1: Your browser does not support audio

Clip 2: Your browser does not support audio
CTV News
| | |
| --- | --- |
| From the CTV News studio in Vancouver Jen spoke with Anchor Todd van der Heyden in Toronto. The live interview was broadcast coast to coast on Wednesday December 23rd described as the busiest shopping day of the year for Canadians. While some of the ideas Jen shared are specific to the Christmas holidays a lot of the tips can work to make shopping easier all year round. | |
News 1130
As a professional shopper Jen has a few suggestions on how to survive shopping the final few days before Christmas and find great gifts for friends and loved ones. Jen offered up some tips to those doing last-minute Christmas shopping with reporter Simon Druker from News 1130. Hear the interview aired on Tuesday December 22nd.
| | |
| --- | --- |
| | Your browser does not support audio |
CBC News
Reporter and Editor Bal Brach from CBC News contacted Jen to get her reaction to a new study from UBC that showed high-end luxury brands snobby sales staff made bigger sales. Jen gave her thoughts on if it pays to offer good customer service.
24hrs
On the heels of Vancouver Fashion Week, Dana Bowen from 24 hrs Vancouver contacted Jen to give advice as a stylist on interpreting F/W 2014 fashion trends off the runway. Click through for the full article.
Global BC
| | |
| --- | --- |
| Elaine Yong from Global BC News Hour contacted Jen to weigh in on the future of Lululemon in light of the recent quality issues as well as the disparaging remarks made by founder and former CEO Chip Wilson about customers at the end of last year. Click through to watch the segment. | |
Business Cards
David Walker, Partner at Saint Bernadine Mission Communications Inc. approached Jen with an idea to make her business cards in the shape of men's pocket squares. The collaborative process was really great and the resulting cards won the agency a 2013 Lotus award for Best Stationery.
The Loop
Ryan Porter, writer and editor for TheLoop.ca's Style section asked Jen to contribute to his 2013 Boxing Day shopping strategies piece. Click through to see Jen's tip and the rest of the article.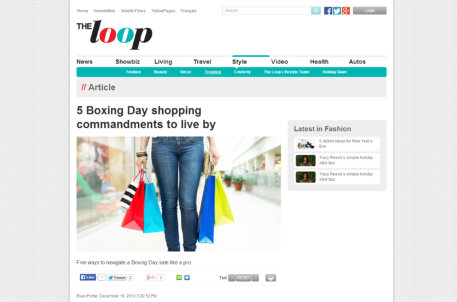 one1one Magazine
Ghazel Elhaei, Editor In Chief of one1one magazine wrote an article about Jen and Your Everyday Stylist, published in their holiday issue. Click through to read the feature (starting on page 48) along with some of Jen's "tools for every wardrobe."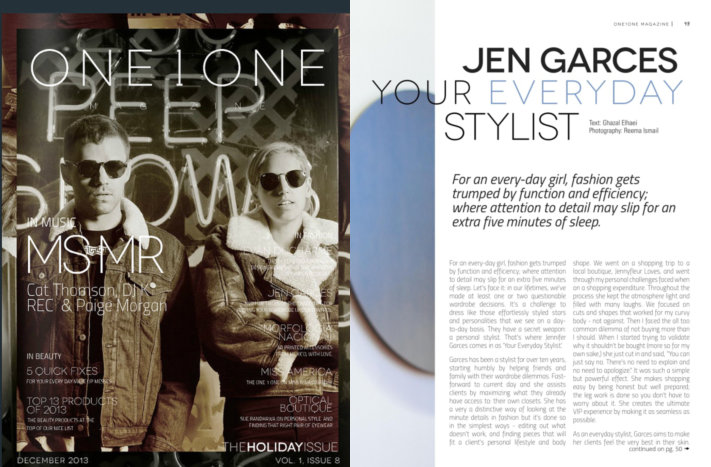 CTV BC: The Last Word
| | |
| --- | --- |
| David Gerry from CTV news interviewed Jen as his shopping expert in The Last Word: Man shopping vs. woman shopping. Click here to go to the CTV site and watch the short clip. | |
CBC Radio One On the Coast
Jen was invited to CBC Radio one On the Coast with Stephen Quinn on Friday November 29th, 2013 to discuss and debate the merits of Black Friday shopping and getting deals. Listen to the friendly banter from the live studio recording.

Global BC
Jen shares her style insights with Global BC reporter Elaine Yong, in a series of mini consumer Style Segments for their 24 hour news channel, BC1. Find the videos in our new YouTube channel.